QLD - THE BANANA SHIRE REGION
The Banana Shire region is rich in natural resources, with extensive undeveloped coal deposits and methane gas used for power production and industrial uses.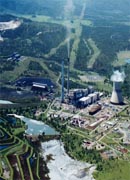 Many towns in the shire have rich historical villages and museums. A beautiful region of gorges and rivers.
Discover the towns within the Banana Shire
BILOELA Thrill to the sight of the silver white flight of a flock of white cockatoos as they soar and swoop in a brilliant blue sky. Biloela, the hub of the magnificent twin valleys of Callide and Dawson in the Banana Shire
DULULU - a small but vibrant little town with a population of 17 ( dogs, cats and birds) which really goes 'all out' for travellers.
MOURA While lunch is cooking, throw a line in, the Dawson is full of Barramundi, Silver Perch and Yellow Belly!!
THEODORE is the doorway to The Banana Shire's, 'Pioneers Ghost Trail'!
Banana
Baralaba
Goovigen
Jambin
Thangool
Wowan
Cracow