NSW -WELCOME TO BATHURST
Welcome to Bathurst Bathurst, Australia's first inland settlement, has much to offer the visitor all year round, from gold rush to colonial history, farmstays and outdoor activities, shopping and festivals, to the world-famous Mount Panorama.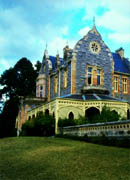 Bathurst's main streets are a mixture of old and new, highlighted by the charming cast-iron lamp posts adorning busy shopping centres.
Bathurst is a city of many facets and its people welcome visitors with warm country hospitality. Whatever the purpose of your visit, we hope that you enjoy your stay, find what you're looking for and take with you fond memories of your experience here.
Our best guides are the people who live here – so if you do need anything, just ask!
Getting to Bathurst:
Bathurst has access by road, rail, and airlinks.
2.5hrs west of Sydney
3.5hrs north of Canberra
2.5 hours east of Dubbo
1.5 hours south of Mudgee
Individuals, tour groups, coaches and international visitors are encouraged to seek the assistance of the Visitor Information Centre to ensure visiting Bathurst is a special experience