NSW - THE BERRIGAN REGION - THE HEART OF THE SOUTHERN RIVERINA!
Berrigan Shire has a magnificent climate that created a perfect foil for the Golfing Mecca this region has become. The region offers a variety of sporting activity that is sure to have played a part in creating a stable and competent workforce vital to the business prosperity and productivity.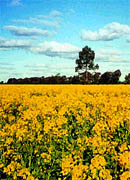 The people of Berrigan Shire know how important local industry well being is, and as with most country people, have the correct work attitude.
Berrigan Shire is a great place to prosper and grow this making Berrigan Shire an obvious choice for potential investment opportunities for a number of industries.
Once you have experienced Berrigan and it's unique and beautiful townships you will return again and again, as so many have before you and continue to do!
See what makes our towns so special-
BERRIGAN Visit the Arts & Crafts Centre, browse through the Antique Shop and discover many treasures from the past!
BAROOGA Play golf on the 36 hole course! or visit the nearby boutique wineries for award winning wines
FINLEY The ideal spot to stop for travellers, taking the Newell Highway! The lake provides a great picnic spot to relax in the sun, or a great spot for the windsurfing or canoeing enthusiasts.
TOCUMWAL Is an historic town situated on the mighty Murray! For over 100 years people have thronged to the beautiful beaches and enjoy the native wildlife including 150 different bird species.