QLD - BILOELA - HOME OF THE WHITE COCKATOO
Thrill to the sight of the silver white flight of a flock of white cockatoos as they soar and swoop in a brilliant blue sky.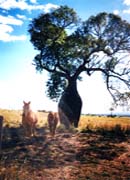 Biloela is an aboriginal word for white cockatoo and hub of the magnificent twin valleys of Callide and Dawson in the Banana Shire.
Take the time to enjoy the wide variety of accommodation available in Biloela, ranging from first class Motels and Caravan Parks to B and B's, Farmstay or the adventure experience that delivers the delights of a permanent campfire, the smell of sizzling bacon and eggs for a hearty country style breakfast, or a delicious campfire cooked evening meal served in the open sided bush dining shed. All this located in an idyllic park like setting with accommodation ranging from powered camping and caravan sites to bunkhouse and 4 star motel style cabins.
Located on a working cattle station, there are a variety of activities from bush walking to horse riding, mustering to adventure courses. Cool off and relax in the superb rock pool, especially after taking a ½ day or full day tour to the stunning Kroombit Tops Gorge. Experience the unique stillness that surrounds the World War 11 crashed Liberator Bomber "Beautiful Betsy" and prepared to be awed by the giants of the old timber forests, the micro rain forest and the panoramic views to the coast.
Mt. Scoria means "place of Fused Metals". This amazing 150 metres high rare rock formation, was once the core of a volcano, and long six sided basalt columns on top of the mountain project outward like fingers. When struck with another rock, they produce a delightful musical sound.
The delightful cottage winery offers a unique experience. The wine is made in the traditional manner and is free of all preservatives or artificial colouring.
Lake Callide provides a delightful space to relax and enjoy the sight of a myriad of bird life, including the majestic pelicans and swans. Picnic facilities and toilets are easily accessible. The Lake is kept stocked from the in-ground breeding ponds, and fishing is a pleasant pastime enjoyed by many.
Referred to as the great rural hinterland,Biloela is renown for supplying coal, beef and grain to the superb deep water port of Gladstone. A growing rural town, its agricultural depth includes the growing of cotton, sorghum, wheat herbs and spices, mung beans, chickpeas, lucerne and a variety of small crops. The production of Red Claw aquaculture and the rapidly growing Squab pigeon industry, now the largest squab growing area in Australia.
A magnificent cattle producing area, the cattle industry is a major industry, (home of Biloela Gold, a boutique market meat sold exclusively to the Japanese market.)
BILOELA- THE CULTURAL AND COMMERCIAL HEART OF THE BEAUTIFUL BANANA SHIRE!