NSW - BOOROWA - Experience The Irish Flavour
People who discover Boorowa keep coming back. They know just why so many early Irish settlers chose to call the town 'home'.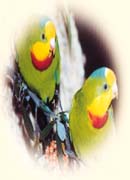 Right on Canberra's doorstep the historic town of Boorowa offers it all: a rich legacy of colonial buildings, a cheery welcome from the locals and the perfume of roses in the air.
Some things never change. Generations have chatted under the main street verandahs, knelt beneath the richly-hued stained glass windows and shared warm country-style hospitality. A short stroll and you are in the midst of fine galleries, antiques, arts and crafts.
Take a wander along the River Walk or follow the Shamrock Trails, come experience the Irish Wool Fest, non stop street entertaining, running of the sheep and the blessing of the sheep.
The Superb parrot has become the Boorowa emblem being one of the main breeding habitats of this vulnerable breed.
A wide range of accommodation can be found from elegant 1920s buildings to the peaceful caravan park in beautiful surroundings.