NSW - BORENORE - Hub of Australia's Food Basket
Borenore is truly the hub of Australia's food basket. Boasting some of Australia's finest fruit, wool, beef, lamb, vegetable and vineyards.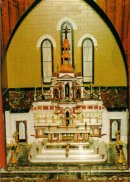 Borenore plays host to the AUSTRALIAN NATIONAL FIELD DAYS which attract in excess of 50, 000 visitors to the site over the three days it is held.
Borenore also has the natural wonder of the Borenore Caves, which are open to tourists for day visitation. The caves are situated 16Kms west of Orange on the Escort Way.
The Borenore caves site is also renowned for fossils dating back to the Tertiary period and the Rusconi Marble Quarry
The picture on the right of screen is a photograph taken of Mr Rusconi's replica of St Marie's cathedral in France. The top photograph on screen is the Borenore Railway station which about to be restored back to original condition.
It is with pleasure that our village is taking part in THE YEAR OF THE OUTBACK. Although, not now considered as part of the Outback we are well and truly on the way and our village formed a unique part of the Outback rail link. The great trains of Australia have and still do visit our station. The Indian Pacific, The Ghan, The Explorer are current users. The Silver City Comet has has been (although in the past) one of our most romantic and memorable visitors.