NSW - BRAIDWOOD - THE CENTRE OF THE UNIVERSE!
Braidwood is considered by its residents to be the centre of the universe.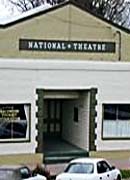 It is a wonderworld of art and craft, including pottery, ceramics, two-dimensional art, sculpture, patchwork, quiltmaking, doll and bear-making, spinning and weaving, woodwork and precious handcrafted jewellery.
Braidwood is a a small rural town, steeped in history.
The town is often considered a real 'find' with its fascinating historic streetscape and unique arts and crafts. The combination of history and art lend a special atmosphere making Braidwood a popular destination 'discovery'.
Many award-winning films, have been shot with Braidwood as a location and its abundance of ready-made characters straight from the pages of poetry and prose.
Classic movies such as 'Forty Thousand Horsemen', 'Robbery Under Arms', 'Ned Kelly', 'The Year My Voice Broke', and that movie of the irrepressible Dad and Dave, 'On Our Selection', spring readily to mind.
The tradition continues, Braidwood loves silent movies screened in the old theatre, parades for airing elaborate costumes, a good yarn spun and embroidered over the bar, and enjoys a way of life so essentially Australian.