QLD - CARPENTARIA SHIRE - OUTBACK BY THE SEA
Queensland's Gulf Country! - Crocodile Country!
BIG BEAUTIFUL AND LAIDBACK: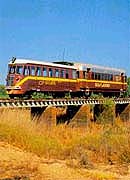 The Carpentaria Shire is huge to say the least, being the size of the entire State of Tasmania! with just two towns! Normanton and Karumba.
It is seemingly incredible that this Gulf Country can be accessed from just about anyway in Australia by sealed roads. And even harder to believe travel to such country can be accomplished from the comfort of your family sedan!!
This is the land of legendary characters, including a train, the Gulflander, locals call it the 'Hare Tin', as it rolls through the heart of the rugged Gulf Country. This is a truly unique experience as it is often seen stopping anywhere, anytime, along its tracks should something take someone's interest.
NORMANTON Life here revolves around the river. The Norman River is famous for its barra fishing and the salmon going past in schools!
KARUMBA Is a fishing village, and an absolute mecca for people who love seafood! With the Prawning, Fishing and Mudcrabs being harvested from its port.