QLD - CHILLAGOE - AUSTRALIA'S OLDEST LIMESTONE CAVES
Chillagoe is surrounded by some of Australia's oldest most interesting and historical rock formations and caves, reputed to be over 400 million years old!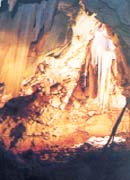 This quiet, serene village epitomises the true Aussie lifestyle offering very unique attractions not readily available elsewhere. It is surrounded by bushland and mountainous regions offering many nature based activities. Tours throughout the bushland and caves are available displaying locations and attractions that pre-date human existence.
Chillagoe is abound with history and Australian heritage. Various museums and heritage spots of Chillagoe are on offer throughout the town, including the heritage museum depicting Chillagoe's history, both famous and infamous.
Accommodation in Chillagoe is comprehensive with numerous camping and caravan facilities available. Alternative accommodation is offered in a range of hotels and motels with budget and deluxe accommodation available.
New adventures await, in the old town of Chillagoe!