VIC -COHUNA - OVERLOOKING GUNBOWER ISLAND
Cohuna is a pretty and peaceful little town of some 2200 people just a few hours drive north of Melbourne.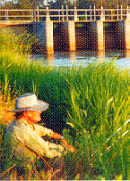 Cohuna's picturesque main street has a varied assortment of shops cafes, restaurants. Just opposite is the fabulous Gunbower Island, the largest inland island in the world!
Cohuna overlooks Gumbower Creek and the Island which is covered with magnificent Red Gum and Box Forests, boasting the second largest River Red Gum Forest in Victoria.
The Island is 50km long and is sandwiched between Gunbower Creek and the Murray River.
The area is thought to have been occupied by the Baraparapa people long before white settlement and prehistoric burials of world importance were found locally in 1925 and in the late 1960s.
Cohuna has so much to offer and so many things to do: Lets go fishing! for one of those famous Murray Cod or you may even hook a Golden Perch, net a Freshwater Crayfish.
Bushwalking will be hard to resist with so much of nature's wonders luring you on or take a drive through the forest, and a host of other activities are on offer, like: bird watching, water skiing, bike riding, go bowling or golfing. Cohuna's got it all!
Heaps of accommodation is on offer throughout the region which has literally 100's of wonderful camping grounds. Cohuna has a caravan park attractively situated on the banks of Gunbower Creek and Hotel Motel accommodation available.