VIC - GREAT WESTERN - THE WINE VILLAGE
Affectionately known as the wine village, Great Western vines were first planted in 1863. This famous town is today one of Australia's internationally renowned wine growing regions and one of the State's most attractive wine villages.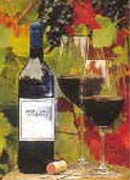 Great Western is a fascinating blend of history and modern technology. History nestles in the age-old vines and rustic cellar doors of Seppelts and Bests wineries whilst modern day Great Western has developed into a wine industry centre supported by tourism including unique historic cottage accommodation, tearooms and bric a brac shops.
Seppelts Great Western Winery houses an outstanding national treasure of intricate underground tunnels known as the drives. The three kilometres of tunnels were dug by goldminers in the 1860's and 1870's and remain very much in use housing the thousands of premium sparkling and table wines maturing in the constantly maintained temperatures. Tours of the Seppelts 'wine drives' are one of the regions most popular activities, together with the slab hut at Bests Vineyard which is one of the areas historic highlights.
Great Western plays host to many events throughout the year including the Great Western Vintage Racing Carnival, Grampians Four Vintage Harvest Exhibition and the Great Western Rodeo.
Today Great Western offers many opportunities for small business and tourism enterprises such as wine and produce stores, restaurants and tearooms, unique historic cottage accommodation, antique and craft galleries.
The close knit community hub revolves around the Pub restaurant, general store, post office, small retail shops, community hall and cricket, netball, football, tennis and racing clubs