NSW - HENTY – A HISTORIC & PROGRESSIVE TOWN
Historic? Yes! Progressive? Yes! Over the period 2004 to 2005 over 25 million dollars is being spent on business development in this community. Watch the headlines as Henty's employment opportunities explode and business blooms. Refer to the newsletter page.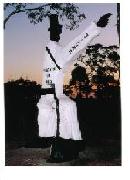 Henty is known as the 'Home of the Header' due to agricultural innovations that revolutionised world agriculture. Take the time to see the display in our Memorial Park. It is Mr. Headlie Taylor's designs and initiatives that were introduced to the locally dispirited rural sector which ultimately changed world agricultural practices many years ago.
The village of Henty was originally called 'Dudal Comer' (pronounced doodle cooma), Aboriginal for 'Sweet Water'.
The town of Henty is perched on the shore of an ancient ebb & flow wetland. For most of the year the wetland is dry and only after periods of heavy rain is the water visible. The wetland habitat covers 2, 023. 5 ha which now includes both common and private land. Many ancient River Red Gums (400years ) still stand and these attract a wide range of bird and animal life.
Henty is geographically situated on the border of the South West Slopes and the Riverina regions of New South Wales within the Shire of Greater Hume, altitude 240m A.S.L. The Henty community services approximately 2, 450sqkms of the South Eastern Riverina. The town is located midway between two of Australia's greatest rivers systems, the Murray and the Murrumbidgee and the inland cities of Albury/Wodonga and Wagga Wagga on the Olympic Highway. The Highway was so named as it was the path that the 1956 Olympic Torch took on its journey to Melbourne.
In the year 2004 Henty celebrated 100 years of ingenuity & talents from our rural community with its CENTENARY SHOW 20th & 21st March, 2004. The Show is held each year. Henty Show shifts to February commencing 2005. Contact our email for more information.
How to get to Henty - The scenic pastoral route to Melbourne and Sydney. If travelling north to Sydney (a five hour journey from Melbourne to Henty), turn left at the Olympic Way north of Albury to Wagga Wagga. You will know if your on the right road when you see the Henty Man & Picnic Area pointing the way (Pictured). If travelling south to Melbourne (a five & 1/2 hour journey from Sydney to Henty), take the Wagga Wagga exit (Sturt Hwy)and head west towards Narrandera, turn left at the Albury sign post on the Sturt Hwy, just out of Wagga Wagga. Spring is a particularily colourful time for a short diversion.
Henty's Secret.
Our main business centre is west of the Melbourne/Sydney rail line. Beneath the IGA Supermarket is Henty's Cellar Museum. Inside you will find Henty's past including the town's old telephone exchange. Many items will bring back memories for some whilst to others a new understanding of the past. Access can be gained by asking at the front register. The museum is only open during business hours.
Antiques
Be surprised. Maybe the one thing you cannot find anywhere else can be found in one of three Henty Antique shops. There is a wealth of local history here as well. If you need a break why not try our town's new coffee shop. For a short break & toilet stop the town's Bi-Centennial Park is Ideal, located on the Olympic Highway, in the middle of Town. The play equipment is a great distraction for bored and restless children. The Park is undergoing a beautification project by the Rotary Club of Henty using flowering trees to provide colour throughout the year. If staying the night, try our local pub and experience country hospitality as only Henty can provide.
The residents of Henty enjoy a country lifestyle with many major services and facilities. Within less than one hours drive, in either direction, we have access to further specialist services. Country Link rail provides twice daily services to Melbourne and Sydney. The surrounding district is considered prime agricultural country for both grazing and cropping. Springtime provides a kaleidoscope of colour from many vantage points.
A strong community developed in the town's early years and although there have been many changes, Henty's residents have retained this pioneering spirit. In fact, many residents have a rich German heritage. Our community is active and remains committed to the towns development. For a town of our size we have a community club to suit most interests or a range of sports to keep you fit.
Having a strong community has enabled us to achieve results that defy the odds. Henty was the first town in New South Wales to purchase and successfully run its own Bank, The Henty Community Bank, a branch of the Bendigo Bank. We have taken Governments to task and most recently have had approval, in late 2001, to build a new district hospital. Hospital opened October 2004. The community of Henty has a fighting spirit that refuses to lay down and die.
Other recent successes have been a new dedicated library with IT facilities, a face lift for the main shopping precinct and a beautiful new aged care facility with self contained units.
For a community of 1100 residents we enjoy the benefits of natural gas, a wide range of television and radio services and some of the cheapest town rates in New South Wales. Henty has virtually no crime and our police force is prominent in the community. Water features, fishing, wineries, nature reserves, national parks and snow are all only a short journey from Henty. Henty is renowned for its agricultural innovations. The Headley Taylor Header, a harvester used to cut grain from crops rather than strip the crops of their grain, revolutionized world grain harvesting. An example of this machine is maintained in the community Memorial Park. The Whitlock Plough, an other local innovation, was superior to Australia's famous 'Stump Jump Plough' though is rarely recognized in Australia's list of innovations.
Henty is also home to its famous Henty Machinery Field Days, the largest agricultural show in the Southern Hemisphere. A showcase of agricultural equipment, latest innovations and technological advances available to farmers and graziers. The Field Days are held usually in the third week of each September. The Henty Machinery Field Days draws between 50, 000 and 60, 000 people from all over Australia and around the World to Henty.
One amazing statistic for Henty is that we are a growing retirement town with a number of people leaving the coast and cities and larger towns to start afresh in the quiet and tranquil country where life moves at a more relaxing pace. Latest developments is that a state of the art Retirement Village, hostel & self contained units are to built on the towns Golf Course. Over 100 permanent residents are expected to call Henty their new home.
Australia's Prime Minister made a visit to Henty on 9th May, 2002. Mr Howard presented to 21 local schools Australian Flags. He later joined with leaders of our local community and those of the Holbrook and Lockhart Shires for afternoon tea. Although short, it was the first visit by an Australian Prime Minister to our community.
Other recent attractions are the Eastern Riverina Landcare Network's Eco-Tour which takes in 10 ecological sensitive sites in and around the towns of Henty, Pleasant Hills, The Rock, Mangoplah and Lockhart. The tour will take a couple of days to complete a visit all the sites, but if time permits the Government Dam Nature Reserve in Henty is only 750 metres off the Olympic Highway (access gained along the Pleasant Hills Road). A Picnic ground has been created by the Rotary Club of Henty and the Doodle Cooma Landcare Group have established a living seed bank from local species of flora. Still in its early stages, this site will become a mecca for those interested in Australian Flora & Fauna. Information of local bird species is now available with some 140 species being recorded in the Henty District. Brochures & information can be obtained at Dale's Highway Store to any of the local attractions, historical information and general enquiries.