QLD - MILLAA MILLAA - The Centre of Creativity & Waterfalls
White crystal waters forever cascade in the ancient land of Millaa Millaa, which is one of the most spectacular regions of the Atherton and Evelyn Tablelands in North Queensland, Australia. (Millaa Millaa is aboriginal for lots of water).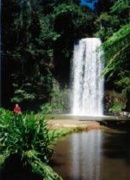 The falls in the district feature clear mountain water which cascades over dramatic volcanic basalt drops, which are a legacy from ancient volcanic past.
The waterfall circuit consisting of Millaa Millaa, Zillie and Elinjaa Waterfalls draws people from around the world. The waterfalls are easily accessed via bitumen road. There are in fact many waterfalls in the district and as well as the ones already mentioned, Mungalli, Souita, Pepina, Nandroya, Walicher, Tchupala and Dinner Falls are all well worth a visit. The cool highland rainforest and the Wooroonoonan National Park with their many walking tracks are also worth a visit.
Millaa Millaa via the Palmerston Highway is only 60k from Innisfail and is the gateway to the Atherton and Evelyn Tablelands being central to all Tableland attractions. Via the Gillies Highway Millaa Millaa is only 1 1/2 hours from Cairns which is home to an International Airport.