NSW - BOGAN SHIRE - THE EDGE OF THE OUTBACK
The BOGAN Shire is situated on the edge of the outback it has wildlife from both the inland and outback regions. The area has an abundance of productive agricultural land for sheep and cattle production and large scale cropping enterprises.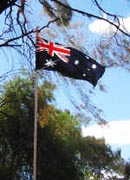 NYNGAN
is the headquarters of the Bogan Shire, Nyngan farmers are highly competitive on local and international markets and the large quantity of agricultural produce is conducive to the development of value adding industries and marketing ventures
The Bogan Shire has three villages within its boundaries. Each one offers a unique insight into the lives of outback Australia.
HERMIDALE
- The Village first came about in the early 1800's, with telephone services established in 1881, following a post office in 1887. The railway finally reached Hermidale in 1892 on its way to Cobar. Hermidale school opened its doors in 1901, followed by the Police station in 1917.
GIRILAMBONE
- The name Girilambone is said to mean, 'Place of Falling Stars' according to legend, a large meteorite struck a hill near the town many years ago. Girilambone boasts it being the smallest town in Australia
COOLABAH
- The first Inn was built in the 1880's and stood about 2kms from Coolabah on the COBB & CO route to Bourke. It was named 'The Three Legs 0' Man Hotel'. It was then rebuilt in the town of Coolabah and it too was named 'The Three Legs O' Man Hotel'.