QLD - NORMANTON - Home of largest Crocodile ever shot!
In 1957 at MacArthur Bank of the Norman River the largest crocodile being nearly 29ft long was shot! A life size model now stands in Henry Park adjacent to the Shire Council Offices. Also a great little reminder that this is croc. country! Where there are croc's there are Barra and Normanton is the place to catch 'm!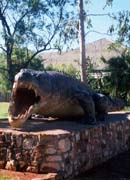 Life here revolves around the river. Yours will too when you start pulling in the scrumptious barramundi. The Norman River is famous for its barra fishing! and the salmon swimming along in big beautiful schools!
The township is one of the historic towns of northwest Queensland. It has wide, wide streets, lots of services and its population of 1700 is made up of Indigenous and caucasian Australians. It is surrounded by fascinating wetlands where the bird population has to be seen to be believed.
The old Goal (jail) remains as a relic of the past with its 18 inch thick concrete walls, iron doors and limited exercise yards, a great place to let your imagination run free.
The people of Normanton are warm and friendly they love to chat, these are great people with a down to earth approach to life that is catchy!
There is plenty of accommodation including Hotels, motels, and caravan parks. Clubs and pubs serve great meals and you will be well catered for overall at Normanton!