VIC - Quambatook - Host to the 'Australian Tractor Pull Championships
The picturesque Avoca River meanders through the attractive Quambatook township!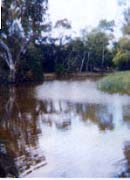 A beautiful walking track follows the Avoca River where an abundancy of bird, wildlife and natural bushland and ever changing river scenes are on display.
Being one of Victoria's most flourishing wheat and sheep areas and a major grain receiving centre the Giant Million-Bushel Grain silos are landmarks of the success of the town and its people.
In line with the agricultural success it only stands to reason that Quambatook would be host to the Australian Tractor Pull Championships each year. This is a loud and exciting weekend for engine lovers or those who just want to witness this spectacular event.