VIC - ST ARNAUD - A TOWN OF STUNNING ARCHITECTURE!
St Arnaud with it's resonant sense of heritage, grand buildings, and stunning architecture was founded on gold in 1855 and is recognised by the National Trust for it's historic value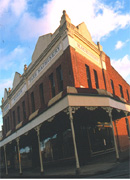 Over the years, a unique streetscape has developed with stores, hotels and houses lavished with intricate cast iron lacework. Modern facilities have been introduced to the town, without detracting from the old world character and charm associated with its history.
An historic town walk reveals the many streets named after British military leaders involved in the Crimean War. Like other towns born in the gold rush, St Arnaud has many historical attractions including the Queen Mary Gardens, Wilson Hill Lookout, Bell Rock, Wineries, Fire Station Museum, Mrs Loves Cottage, The Wax Garden, Ironbark forest and Pioneer Park.
St Arnaud became an agricultural centre in the late 1880's and is now a regional service centre for the surrounding agricultural areas. Renowned for it's golden grains, merino wool and cattle farming, St Arnaud also supports a number of secondary industries including stock food manufacture, agricultural machinery manufacturing, turkey farming and large scale piggeries. Other more recent enterprises include eucalyptus farming, olive groves and wine growing.
Rich with parks, gardens and a host of sporting activities and competition standard facilities, St Arnaud is rapidly being discovered by people wanting to live and enjoy it's lifestyle advantages. Golf and tennis tournaments, bowls and croquet feature through the year with excellent links and courts available.
St Arnaud has become renown for its heritage qualities attracting interest both locally and internationally.