NSW - WENTWORTH - GATEWAY TO OUTBACK NSW
Wentworth is considered the gateway to Outback NSW, and is situated on the junction of the Murray and Darling Rivers in south-western New South Wales. Mildura, situated on the Victorian side of the Murray, is the nearest commercial centre of any size.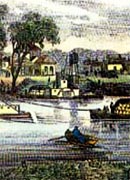 Wentworth Shire offers an introduction to Outback Australia. It is a land of rivers, creeks and lagoons; of windmills, bores and waterholes. There are miles and miles of saltbush, acacia, casuarina and mallee, wide flat plains, drifting desert sands, red roads and cobalt blue skies.
Magnificent ancient eucalyptus trees that are regal, gnarled and twisted, plentiful wildflowers, kangaroos of grey, blue or red, eagles, hawks, parrots and the beautiful little azure blue finches all make up the unique landscape of this exciting region.
Wentworth is a town steeped in history and as a tourist area of great diversity, including; the Junction of the Murray and Darling Rivers, Locks and Weirs, Paddle-steamers and Houseboats, Watersports, Historic Buildings, The Old Wentworth Gaol, Pioneer Museum, Aboriginal Culture and Galleries, Wineries, Perry Sandhills, Australian Inland Botanical Gardens, Mungo National Park and the Willandra Lakes World Heritage Area, unique scenery and native wildlife.