NSW - CENTRAL DARLING SHIRE OF CONTRASTS
CENTRAL DARLING SHIRE Central Darling Shire is the largest Shire in NSW, with its office based in the town of Wilcannia and also covering White Cliffs, Menindee, Ivanhoe and the villages of Tilpa, Mossgiel & Darnick.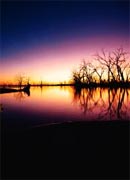 IVANHOE
- Cobb & Co Country.... Born through hard work and determination, Ivanhoe represents the classic outback pastoral town. Through times and good, flood and crippling drought, towns like Ivanhoe have earned their place in Australia's history. Retrace the exploits of bushrangers, the journeys of Cobb & Co. and the advent of the railways.
MENINDEE
- First Town On The Darling..... and is located 110 kilometres from Broken Hill. The Lake Systems and river offer a diverse range of recreational activities such as fishing boating and camping. Menindee is linked with the 1860 Burke & Wills Expedition.
TILPA
- The Village on the flood plain....... grew at the junction of the Paroo and Bourke roads, on the Darling River. A crossing place for stock and eventually the site for a telegraph office and pub boasting menu items such as 'Goat & Galah'.
WHITE CLIFFS
- Where pioneering is a way of life.... the real outback! White Cliffs was born through the discovery of Opal in the 1890's and is a pioneer town with genuine character. Once home to over 4000 hardy souls.
WILCANNIA
- Queen City of The West.... Wilcannia has a rich historical past as the largest inland port and the third largest port in Australia during the last century. A Heritage Trail provides a glimpse of the towns former glory taking in the beautiful sandstone buildings and other points of interest.