NSW - BATEMANS BAY
Batemans Bay is located on the South Coast of NSW, Australia. Only 2 hours from Canberra ACT and 4 hours from Sydney NSW.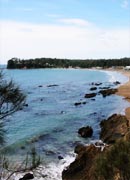 There are dozens of clean beaches, some with gentle shallow waters perfect for young children and others to challenge the more discerning of surfers.
The historic village of Mogo, only 5 mins south of Batemans Bay, where the rustic atmosphere has been preserved in the newer buildings in the town.
This quaint village has a wide variety of unusual and attractive craft and antique items. There is also the famous Mogo Zoo and even panning for gold in the pioneer tradition.