WA - MANDURAH - The Holiday Coast!
Mandurah - and the Holiday Coast - just an hour south of Perth - is famous for its Mediterranean climate of warm summers mild winters combined with the protected waters, excellent beaches, superb fishing and crabbing, international golf facilities!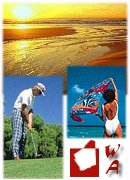 The Murray River and the Peel Inlet, are home to the friendly Dolphins, and that wonderfully graceful bird the Pelican.
Mandurah is one of only a small number of places worldwide where wild dolphins can so regularly be seen living so close to civilization.
The inland waterway system provides the dolphin pods with a safe place to give birth and raise their young.
There are approximately five or more births a year.
Mandurah is a magnet for surfers from all over the world. The a huge variety of waves from great beach breaks to heavy reefs all dotted along the coast from Secret Harbour in the north to Whitehills in the south give surfers a selection of a life time.
There is always plenty of surf all year round. Winter is the biggest, with the best time of the year being either spring or autumn. During these months the essential ingredients are good swell, offshore winds and plenty of sun.
A pastime many enjoy is the opportunity to wine and dine on some of the best foods Australia has to offer while overlooking breathtaking ocean views.
There is a wide variety of accommodation to choose from at Mandurah including novelty house boats on the Murray River.
Another attraction on offer along the Holiday Coast is the 'Golf Coast' where you can enjoy a game of golf on one of three world-renowned courses designed by famous players, Ian Baker-Finch, Graham Marsh & Robert Trent Jones Jnr. A huge international interest is due to Mandurah being the home a of world class course rated third in Western Australia and one of the top 10 resort courses in the country.
Mandurah is a brilliant combination of many of Australia's unique and sort after experiences, being a wonderful place to live and a great place to visit