VIC - TORQUAY - VICTORIA'S SURFING CAPITAL
Torquay contains one of the world's most famous surfing location, BELLS BEACH! surfers from all over the world are drawn to Torquay and the surging swell of Bells Beach.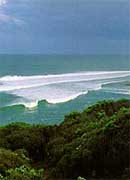 Torquay offers a range of attractions including varied walks from lush bushlands tracks or soothing beach and coastline trails.
The surrounding forests of Torquay play host to a number of rare and endangered fauna.
All water sports and activities are catered for including surfing, waterskiing and windsurfing.
There are a multitude of Heritage spots and museums. Learn more about the surfing genre at Torquay's Surf world Museum.
Explore potteries, galleries and craft shops inspired by Torquays breathtaking scenery.
Torquay has a variety of accommodation available including, hotels, motels, cabins, camping and caravan facilities as well as backpacker accommodation.
Torquay is enjoyed by surfing enthusiasts and nature lovers from around the world.