NSW - TUMBULGUM VILLAGE - ON THE TWEED RIVER.
TUMBULGUM NSW is just 15 minutes south of the fabulous Qld Gold Coast and just north of NSW's beautiful Byron Bay.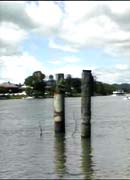 Tumbulgum is one of the oldest villages in northern New South Wales nestled on the banks of the Tweed River, over looking magnificent Mount Warning and surrounding ranges.
The name Tumbulgum is derived from an Aboriginal word meaning 'the meeting of two rivers' and with the breathtaking scenery, it is no wonder the region has become a haven for all types of artists.
Tumbulgum is one of the first towns in a series that we at Give An Aussie A Go are capturing on film. See this beautiful village meet the characters who live and work there you may find it holds the investment and lifestyle opportunity you have been searching for.
Enjoy the stories of the people who work and live in this town, their struggles and victories. These stories include:
The Tumbulgum Gallery operator Jill Ray-Black a city girl with a background in Media and a well known personality in Australia. Apart from running Tumbulgum Gallery she is currently also the morning host on local Radio.
The Tumbulgum Cemetery has an extraordinary history but the story behind the recent restoration is just as fascinating. Jan Sinclair was one of the main character involved, her story is amazing and her experiences lead her to the unusual and successful business that bring people from all over Australia and the world to her mountain top property, to experience Mother Natures Bush Tucker Seminars.
Meet the two young women who own and run the Tweed Endeavour Cruises you will be amazed at their tenacity and how they have turn their business from near collapse into a profitable concern, against all odds.
See the trailers of the film now and start your collection of the series on these fascinating stories of Australian People, the Towns, the History, the lifestyle and environment that mould them.