WA - YORK - THE FIRST INLAND SETTLEMENT!
York, is situated in the Avon Valley of Western Australia and is one of the most charming and picturesque towns in Western Australia.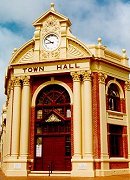 Nestled on the banks of the Avon River, it is surrounded by naturally beautiful scenery and picturesque farmland.
Such beauty was not overlooked as it chosen to become the first inland European settlement in WA.
York is attracting attention both nationally and internationally with its abundance of activities and attractions.
York has variety and diverse range of attractions from, the locally produced Emu & Ostrich products to the more adventurous pursuits of sky diving and gliding. York is renown for it's popular music festivals, arts and crafts, vintage motor vehicles and its historical gardens and roses.
The National Parks are an adventure within themselves and all offer a unique and varied experience:
Gwambygine Park Is home to the famous Suspension Bridge built in 1906 Displaying the history of the Avon River, its plants and animals on the information boards around the Park. Large shelters provide a perfect picnic venue, rain or shine.
Avon Park Is situated along the Avon River with its lovely shady trees, ideal for that family picnic
Mount Brown Lookout Offers a breathtaking 360 degree over the township and surrounding countryside can be gained.
York has a long history and a unique past, with many of its old buildings still being utilised today, the combination of all York has to offer makes it a great place to live and why so many people like to visit.